What Behaviors Are Causing You Stress?
Behavior change can be complicated and unnerving. Fostering a new habit to decrease an old one is complex. But it may be time to be mindful and think of the behaviors that are not serving you well.
Are you on a career path that doesn't bring you joy? Are you spending too much simply because you want to impress others? Do you get distracted by meaningless posts and videos on your phone? How about behaviors that you know you should be doing more of? Are you exercising enough? Do you take care of required tasks such as answering emails in a timely manner? Are you getting as much sleep as you would like nightly? Are you participating in leisure activities as much as you would like to?
Today, I'll help you create a Behavior Change Bucket List. This exercise is about reducing anxiety and stress through behavior change.
Identifying Troublesome Behaviors
Identify excessive and deficit behaviors that may be adversely impacting your life. Write them down and start tackling them one at a time. Even small changes will begin to decrease your burdens.
While working through this sheet, you may find a pattern of behaviors. They are likely weighing you down financially, romantically, academically, etc.
Here are some ideas for your list:
not planning for your financial future
failing to write down your assignments in a planner
buying the latest trend even when you don't love the item
not exploring different jobs when unhappy at your current work
giving in to your child's temper tantrums
letting your young children stay up way too late
saying YES to an invite when you really want to say NO
spending time on your phone rather than taking a walk
worrying about things that you can't change
continuously putting required tasks off until the last possible minute
neglecting your regular exercise routine
reducing effort on previously enjoyed hobbies or activities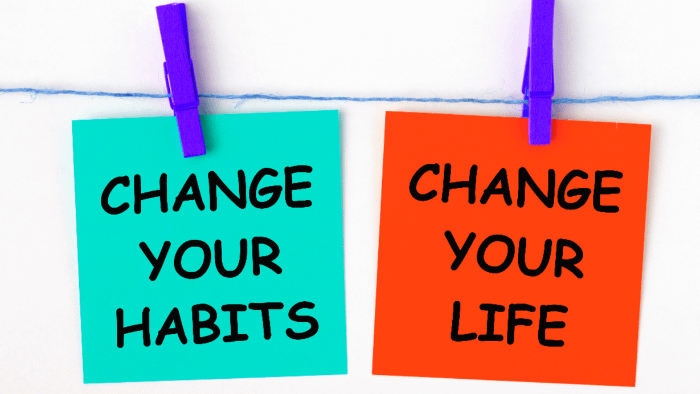 What are some behaviors that you'd like to
modify
? Do you have some ideas for your behavior change bucket list?
How To Implement a Behavior Change Bucket List
Acknowledge that behavior change is challenging. That's why we ALL have trouble with our New Year's resolutions.
1. Be honest.
Facing habits that we need to break can be daunting, especially when we become defensive. Be truthful with yourself. You know if you need to stop smoking or implement an exercise program. It's okay to be scared about moving towards your goals.
2. Weigh the pros and cons.
As you look at the behavior changes that you want to make, weigh the pros and cons of each item on your list. What are the benefits to making the change now? Are there any downfalls? Maybe your change is better suited for when your kids are back in school? Take a look at your calendar and set a date to get stsarted.
3. Prepare yourself mentally for change.
If you are thinking of a huge change such as losing weight, then you may need some extra time to prepare yourself. Get in the right frame of mind before you take on step 5. Empower yourself with information from your doctor or a picture of yourself when you were at your ideal weight.
4. Continue with preparation. 
The more prepared you are, the better chance you have of being successful. Look at your calendar and identify the nights that you are free to start exercising, download budget worksheets, or purchase a new planner to write down all the tasks that you've been forgetting to do. Get support from friends and family.
5. Begin your behavior change.
Try to stick with your plan for a set amount of time. Break your goals in to smaller chunks. Days, then weeks, then months! Hopefully much longer.
6. Reward yourself.
Along the way, set milestones. When you reach them, it's time to reward yourself. Were you on time to all of your appointments? Gift yourself a new business shirt.
7. Re-evaluate.
You've made fantastic progress. Now, what will you do to keep up the momentum? Consider new strategies to keep on track. Sick of the treadmill? Sign up for a swimming class! Does your paper calendar seem boring now? Gift yourself a new app!
8. Watch for relapses.
It's tough to break a habit. Don't let the relapse deter you from the achievements you've already made. Learn from your relapse. What made you take a step backward? What will you do differently moving forward? Work the steps and you'll start gaining traction again!
For information on how physicians help with behavior change, check out this Health Behavior article.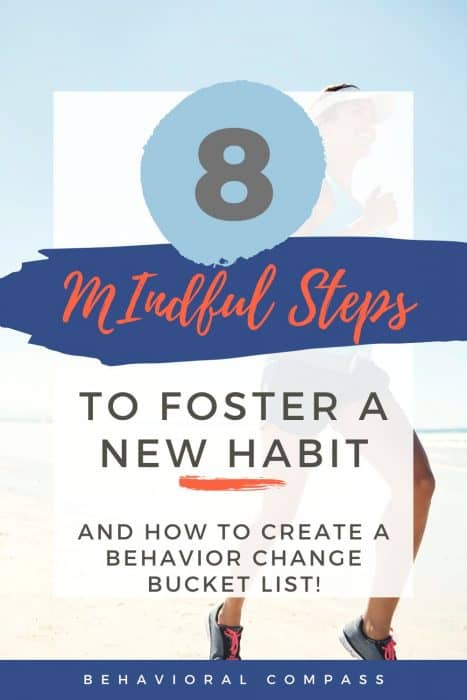 There is no right or wrong set of responses for this list. Be honest and utilize the list as a motivator for beginning to make positive changes in your behavior.
You'll experience some extra stress and anxiety facing the behavior changes that you know you must tackle. However, once you start moving through your Behavior Bucket List, you will feel so much better!
You CAN make changes in your behavior that will improve your quality of life.
Your Turn to Share
What behaviors are you including on your Behavior Change Bucket List?
Michael LaPaglia
Welcome to Behavioral Compass. As a self-employed behavior analyst, my career path has led to teaching parents, colleagues, and support staff. Over the years, I've honed my teaching skills working as an adjunct professor for St. Joseph's University and Lipscomb University. In my spare time, I love to watch movies. I'll talk to you about Star Wars any time of the day. Also, I'm the proud dad to an aspiring aerospace engineer. Drop me a message anytime.